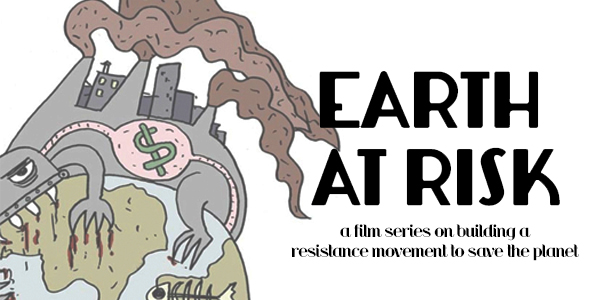 Our planet is under serious threat from industrial civilization. Yet environmentalists have not considered strategies that might actually prevent the looming biotic collapse the Earth is facing. Until, Earth at Risk.
EARTH AT RISK was a conference convened by acclaimed author Derrick Jensen, featuring seven thinkers and activists who are willing to ask the hardest questions about the seriousness of our situation. Each of the speakers presents an impassioned critique of the dominant culture. Together they build an unassailable case that we need to deprive the rich of their ability to steal from the poor, and the powerful of their ability to destroy the planet. They offer their ideas on what can be done to build a real resistance movement – one that can actually match the scale of the problem.
This film series will present the interviews of each of the seven thinkers, including Derrick Jensen, Stephanie McMillan, Lierre Keith, Arundhati Roy, Thomas Linzey, Aric McBay, and Waziyatawin, followed by an in-depth group discussion of each of the ideas presented.
– – – – – – – – – –
In our first installment, we welcome you to watch the interview with Thomas Linzey, executive director of the Community Environmental Legal Defense Fund.
CELDF has worked with hundreds of communities across the United States and the world facing unwanted corporate development projects such as chemical trespass, factory farms, gas drilling and fracking, mining, and sewage sludge. CELDF has now become the principal advisor to activists, community groups, and municipal governments struggling to transition from merely regulating corporate harms to stopping those harms by asserting local, democratic control directly over corporations.
In November 2010, CELDF worked with the City of Pittsburgh to become the first community in the nation to ban hydraulic fracturing, or "fracking."
In this interview, Thomas Linzey presents the CELDF model and discusses how communities can dismantle corporate "rights" by recognizing and asserting the rights of their community and the rights of nature.
– – – – – – – – – –
This event is free and open to the public. For space accommodation please be sure to RSVP. If you have any questions, need directions, or need any further information, please contact us at dgrnewyork@riseup.net
Monday, September 30th, 2013
7pm – 9 pm
Bellevue Hospital: Room A-342
462 1st Avenue
(between East 26th/28th)